Design really matters
Whichever your service or product is, they need a visual that reflects their identity.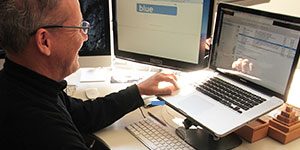 Our passion for design – the job of translating problems into solutions that are simple, useful and adequate to where they belong – came in 1987. The evolution to such passion created Blue Media at the turn of the century, in the year 2000.
We work in the fields of digital and graphic design, being always guided by the aims of our customers and by our passion in making ideas come into reality.
Each challenge is taken as a mission. We are hands-on, fast and focused. We want our customers to be fully satisfied. That is our mantra!
Partnerships exist to support businesses; with complementarity between companies, the growth of both. In a partnership the essential attributes may be summarized in professionalism, technical qualification and promptness at attending. Blue Media has been our partner for years. Besides the global dimension of the group MSL belongs to, which is formed by several companies with different specialties, Blue Media managed to get their space and have our respect and admiration.
We discovered Blue Media in 2018 and it was a great surprise. Our presentations turned beautiful and, finally, the good content met a good format. Sammy brings talent, rapidity and an excellent attending to all of their deliveries.
Blue Media has been with us since 2001 when we were still starting as a language school. They developed our initial logo and its stylization in 2014. All of our communication materials are developed along with Blue Media and we are very satisfied.
The relationship of Kron with Blue Media started in 2004 all of the challenges were accomplished with excellence ever since Kron Medidores is a family company with over 60 years in the market and we consider Blue Media as a part of this Family. Congratulations, Blue Media, for its 18 years.
A real partner! That is the best definition of Blue Media, which, besides the quality and good taste of their proposals, also delivers trust, price and deadline.
Blue Media was one of the agents that enabled a change of course at the company by changing its visual identity, what contributed to the reordering of the business model. Sammy was the central agent, with a hands-on contribution to the solution of all problems with talent and seniority.
Blue Media is a great partner and supplier at Instituto Fazendo História. They have always been contributing to the institute, both on a paid basis or not, attending us with the same competency and will in both situations. We love Sammy's effort. He has been solving our various different demands over 10 years.
The partnership with Blue Media started in 2014 and has been growing more and more due to its competence, quality and generosity. Besides the excellent job accomplished at the development of CEAP's institutional materials, the company helps us on a probono basis in several strategic materials from the organization. We trust them and recommend the job they do.
Blue Media is a great partner at S1. They have fast, no frills deliveries. We know we can count on Sammy! Together we turn challenges into fast, ready to use solutions at a fair price. We share the same values. It is amazing having a partner like that!
Much more than a supplier, I have considered Blue Media as a part of my team for many years! From Sammy W's incredible photographs to the post sales materials, I can find the strong traces of professionalism, dedication, quality and much talent at the visual arts field. Besides, sympathy and attention are a strong differential at Blue Media.
Our way of working
Very simple. Uncomplicated. You explain it, we do it!
Sammy W. Oliveira
Founder at blue media studios